I wanted to highlight a XI of prospects who might be near or in the top tier of U.S. Youth National Team prospects, but who don't seem to be getting the same attention as others.
GK: David Ochoa - 2001 - Real Monarchs
Ochoa, from Ventura, CA, became the youngest goalkeeper to debut in USL, for Real Monarchs at 17 years old. As a Mexican-American, Ochoa has been called up by both countries' federations, but clearly appears to lean toward the US at this point. He is currently the top 2001-born goalkeeper in the country and was previously the #1 for the US U18s, but now has been promoted to the US U20s. Ochoa has a bright future professionally: he can either look to move abroad, having already received interest, or he can stay in the Real Salt Lake system, with hopes to eventually replace Nick Rimando at an MLS club that has a proven record of playing its youngsters.
RB: Ian Hoffmann -2001 - Karlsruher (Germany)
Hoffmann, from Connecticut, is a versatile prospect in Karlsruher's academy who can play not only right back but also attacking midfield. He was able to move to Karlsruher due to his German passport. Originally with U.S. youth national teams, he then joined up with Germany's U16s and U17s for most of 2017. It was the first-ever instance of the DFB calling up an American-developed player of German descent, in contrast with the typical case of the USSF calling up a German-developed player of American descent. He rejoined the US U18s in 2018 and has been with them since, although he also was on the provisional list for a Germany U17 squad just a few months ago. As of January, he led Karlsruher's U17s in both goals and assists. Now, he is moving up to their U19s. American Soccer Now had a feature article on Hoffmann's journey.
CB: Julian Araujo - 2001 - Barcelona AZ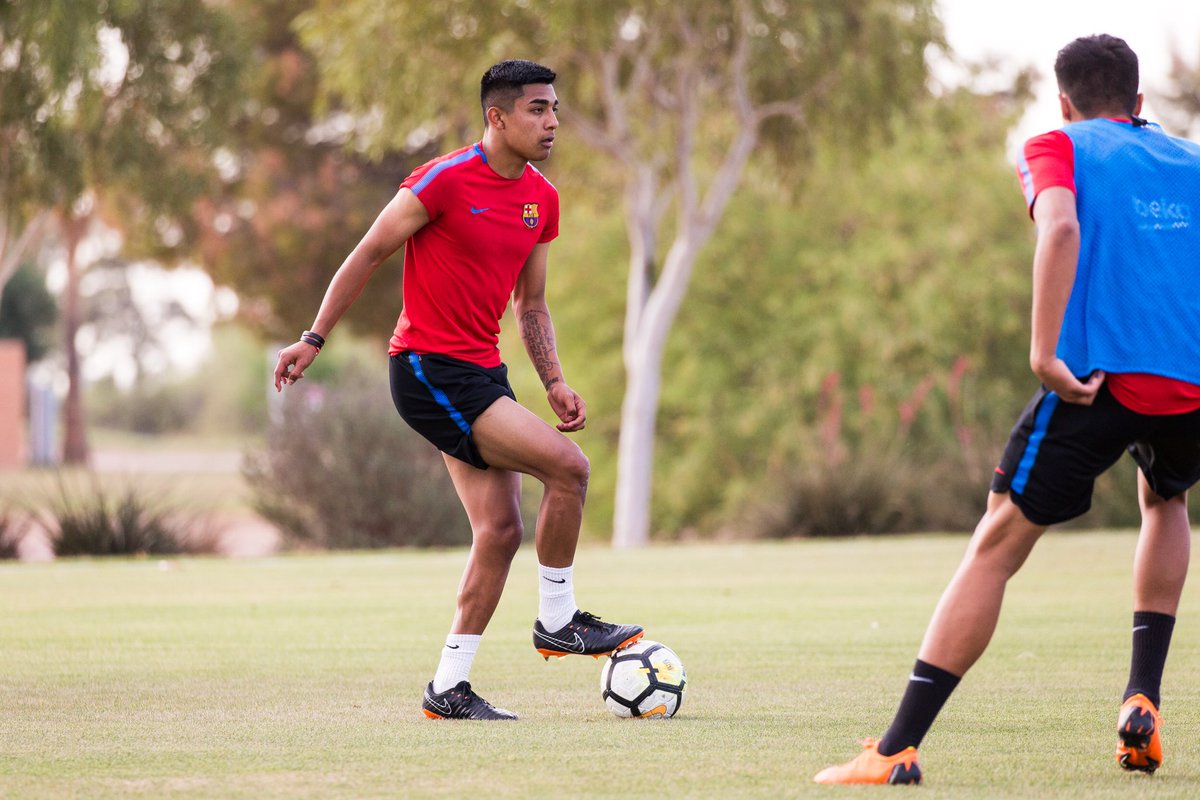 Araujo, from Lompoc, CA, is the crown jewel of the Barcelona academy in Arizona. He plays both RB and CB, but has mainly been a CB for U.S. youth teams, including as a starter for the U16s and U18s. Araujo is a technical, mobile, ball-playing CB who can venture well into the midfield, helped in large part by his early days playing as a winger. He provides a contrast to the likes of Cameron Carter-Vickers, who is a solid traditional defender but far more reliant on raw strength and build instead of any sort of pace or ball-playing. The U.S. needs more defenders with Araujo's qualities to develop. He has been a member of the US U18s since age 16, loves representing the U.S., and although he has a verbal commitment to UC Santa Barbara in NCAA soccer, he has aspirations to play in Europe. He was also named to the Western Conference Best XI in the USSDA for the U-16/17 age group.
CB: Jacob Akanyirige - 2001 - San Jose Earthquakes
Akanyirige, from Pleasanton, CA, possesses Araujo's qualities of a modern central defender, but with a slightly bigger physical build. The former Ballistic United player used to play every position on the field but now mainly plays left CB. Akanyirige is on a professional deal with the San Jose Earthquakes. At the time of his signing in December 2017, he was the third-youngest player in all of MLS. He received his first callup to the US U18s this year. He is also eligible for Ghana and has drawn interest from Ghanaian football fan sites.
LB: Michael Barragan - 2002 - Atlas (Mexico)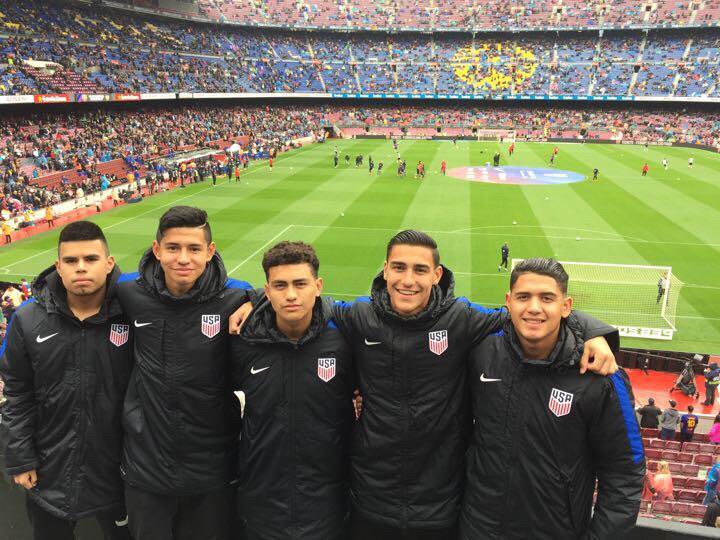 While Efrain Alvarez has receiving much attention as a 2002-born Mexican-American eligible for both countries, another dual-national battle for a Mexican-American '02 has been going on more quietly. Barragan (far right above), born in Arizona, began in the academy of Club Atlas in Liga MX at age 13 and has been rising up the ranks. He was originally a member of the Mexico U15s in 2016 and 2017 as a teammate of Alvarez. In 2018, he surprisingly joined up with the US U17s, then flipped back to Mexico U17s, then came back again to the US U17s where he has remained since. Despite tough fullback competition among the US U17s including George Bello and Joseph Scally, Barragan was able to earn multiple starts in the 2018 Sportchain Cup in Spain, helping the US U17s to the title. For Club Atlas, Barragan was the only 2002-born player to play for their U17s last season, so it's not surprising that Mexico wants him. Fortunately, as with Ochoa, it seems Barragan wants to be with the US despite El Tri wanting him.
DM: Andres Jimenez - 1999 - Envigado (Colombia)
The US U20s appear to be stacked at the 6 and 8 positions with Alex Mendez, Richie Ledezma, Chris Durkin, Chris Goslin, and Juan Pablo Torres. One U20 midfielder who has received less fanfare is Jimenez, who plays in the academy of Envigado in the Categoria Primera A (Colombian top flight). The above video demonstrates evidence of physicality and technical ability. The Miami-born #6 grew up in Colombia but really wants to represent the US. He made his US U20 debut in March against France U20s, helping the US to a 1-0 victory.
CM: Owen Otasowie - 2001 - Wolverhampton Wanderers (England)
Otasowie (#24 above) may be the player in this XI who best represents a top USYNT prospect who not many have heard of. He is one of the top prospects, arguably the top one, in the Wolves' system. Otasowie is the only US player born 2001-later who is on a professional contract with a club from a Top-5 league, and just one of three 2000-later Americans along with Josh Sargent and Tim Weah. Otasowie does not have a defined position: he can play the 6, 8, 10, and even as a ball-playing CB. He signed a professional contract with Wolves upon their promotion to the Premier League, but before that, drew interest from Ajax, Everton, Juventus, and Schalke. This was certainly due to his combination of technical ability (praised as one of Wolves U23's better players at age 16) and Pogba-like build (6-foot-3, about 185 pounds). Born in New York, developed in England, and of Nigerian heritage, he is eligible for all three countries but so far has represented only the US U18s. He seems to be a player who might have been with England youth teams were they not so stacked. The Premier League site has even created a profile page for him, although he will likely begin the season with Wolves U23s again.
CM: Kevin Lankford - 1998 - Heidenheim (Germany)
Upon hearing there is a young American who has already made two dozen 2. Bundesliga appearances including a handful of starts, some might guess Haji Wright or McKinze Gaines, who are both age 20. Wrong -- it's 19-year-old Kevin Lankford, a central-attacking and wide midfielder for Heidenheim, who so far has had much more success in the league than Wright or Gaines. The German-American has played for the US U19s before, but unfortunately is about a month too old for current US U20 eligibility, otherwise he'd be certainly part of the U20 pool. Before playing for Heidenheim's first team, he had been with their U19s since age 16. He has been playing regularly in preseason for Heidenheim and hopes to continue that into the regular season, including starts. In April, he got his first career assist on an impressive play.
LW: Jesus Ferreira - 2000 - FC Dallas
Among the bright attacking talents in the 2000 class such as Josh Sargent, Tim Weah, and Andrew Carleton, one name sometimes lost in the mix is the Colombian-born Jesus Ferreira. Last year, he made his MLS debut for FC Dallas at just 16 years old and scored in the same match, becoming the third-youngest player ever to debut in MLS and the second-youngest player ever to score in MLS. He was also called to a camp with the US U17s ahead of the U17 World Cup, although he could not officially play due to not having US citizenship. He is supposed to get his citizenship by his 18th birthday and be officially eligible for the US. He is currently on loan with Tulsa Roughnecks in USL.
CF: Alfonso Ocampo-Chavez - 2002 - Seattle Sounders
The 2002 US-developed class has a handful of well-known prospects including Gio Reyna, Gianluca Busio, George Bello, Damian Las, Joseph Scally, Gilbert Fuentes, and yes, Efrain Alvarez. One possibly lesser-known name is Fresno, CA native Alfonso Ocampo-Chavez (#9 above), who appears to be the best center-forward of the class. In 2017, he became the second-youngest player ever to debut in USL when he started for Sounders 2, only older than Chris Durkin, and younger than Efrain Alvarez and Alphonso Davies. He has started for the US U15s and U17s in major tournaments such as the 2017 Torneo delle Nazioni and 2017 Nike International Friendlies. The Sounders academy side has often played in international club tournaments, and he has been successful with them as well, such as scoring a hat-trick against Club America in the Manchester City Cup, and winning the Golden Boot with 8 goals at the 2017 Youdan Tournament in England, beating out prospects of various clubs from the Premier League and other top-flight European leagues. In April, he signed a contract with Sounders 2, but moved back down to the Sounders academy side for the USSDA playoffs, and was the leading scorer in the DA playoffs for the U-16/17 age group. Don't be surprised if you eventually hear Ocampo-Chavez's name alongside the likes of Josh Sargent and Sebastian Soto.
RW: Charlie Kelman - 2001 - Southend United (England)
Konrad de la Fuente and Ulysses Llanez are the two best-known wingers in the 2001 class, but one shouldn't sleep on Charlie Kelman (#20 above). He scored an absurd 61 goals in the 2017-2018 season for Southend's academy at U16-U18 level, which was nearly 20 goals more than the highest scorer in the USSDA this season, top YNT prospect Sebastian Soto who had 42 goals. Granted, it's only for Southend's academy, but still. Kelman, who has an American father and spent much of his childhood in Texas including some time with the FC Dallas academy, received his first US U18 callup in June and was the only player to score in a friendly against USL side Swope Park Rangers. He is currently with Southend's U23 team in preseason, and it's possible he eventually makes his senior debut in EFL League One this upcoming season.